The Invest North Macedonia team participated in the "Green Energy Forum" organized by the Ministry of Foreign Affairs – Directorate for Economic and Public Diplomacy as a response to the initiative of KOTRA – Korea Trade-Investment Promotion Agency.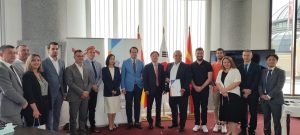 At the forum, the representatives of the Agency presented the general economic and investment climate in the country to Korean Ambassador Lee and the delegation of KOTRA Sofia.
This event represents an excellent opportunity to expand cooperation with KOTRA, to achieve closer cooperation in the future in terms of green energy projects and other investment projects, as well as strengthening bilateral mutually beneficial trade relations between the two countries.