The Director of Invest North Macedonia, Gazmend Abdia participated in the Annual Investment Meeting (AIM) in Abu Dhabi, where he was accompanied by Bekri Ajdini, the economic counselor of North Macedonia in Abu Dhabi. This meeting was a valuable opportunity to present the Agency for Foreign Investments and Export Promotion and to present the investment potential of our country on an international level.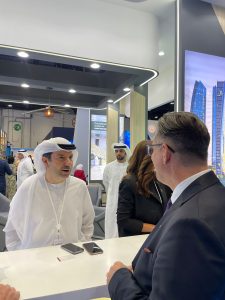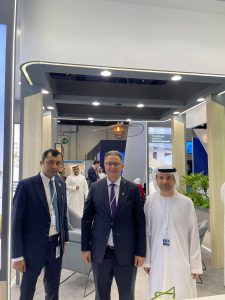 AIM is a great platform to share perspectives, make new contacts, and explore foreign investment opportunities.
The Invest North Macedonia team had the opportunity to meet and talk with industry leaders, finance experts, and successful investors from around the world. The exchange of ideas and information has been a blessing, offering us a tremendous chance to expand our business horizons.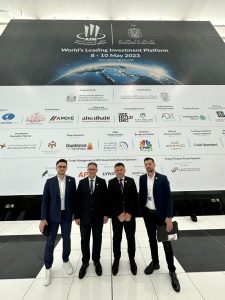 During the meetings and panel discussions, the challenges and opportunities of investing in a rapidly changing world were revealed.
We discussed innovation, technology, other innovative sectors, and the potential for investment growth in our country. We have been assured that the Agency for Foreign Investment and Export Promotion in North Macedonia is ready to support foreign investors interested in exploring and investing in our exceptional market.
During the event, Invest North Macedonia held a constructive meeting with representatives from the Abu Dhabi Chamber of Commerce. This meeting was an important opportunity to share ideas and discuss potential cooperation between the business community of our country and business in Abu Dhabi.
Our participation in AIM will help foster new relationships with foreign companies and increase the level of investment in our country.
The Annual Investment Meeting or AIM is a leading investment conference that brings together all types of investors, entrepreneurs and government sectors from all over the globe. Annually held in the United Arab Emirates which serves as a platform for all sectors to have an open discussion of the latest investment trends and opportunities, have an opportunity to exchange ideas and explore potential partnerships. Focusing on emerging markets and growing technologies, Annual Investment Meeting aims to drive innovation and economic growth globally. Part of the key features on this event are keynote speeches, panel discussions and much more sessions as well as opportunity to build valuable network. The Annual Investment Meeting aims to provide attendees insights to wide range of topics including fintech, blockchain, sustainable investing and much more. The Annual Investment Meeting is the avenue for anyone looking to gain competitive edge in today's rapidly changing investment landscape.
For more information visit: https://www.aimcongress.com/