Invest North Macedonia won second place in the international competition for the best companies and organizations around the world Go Global Awards 2021 organized by the International Trade Council (International Trade Council) based in Washington, USA.
At yesterday's ceremony, which was attended by companies and organizations, the Agency was awarded for the first time an award in the category "Export Promotion".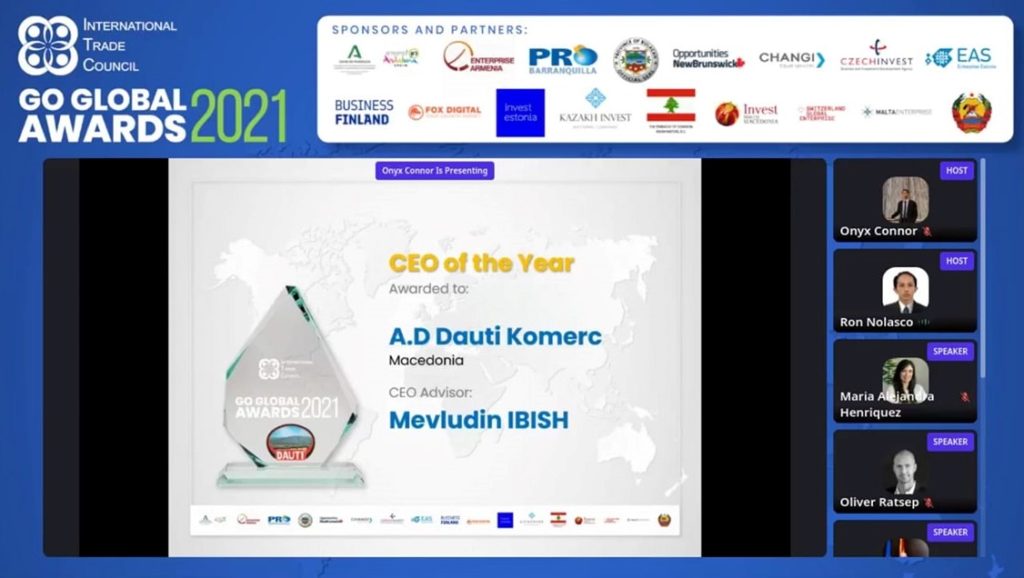 The recognition for the success in the work of Invest North Macedonia was given to the director Dejan Pavleski, who invited the attendees of the ceremony to consider the opportunities and benefits offered by the Government of the Republic of North Macedonia for potential investors and to increase trade.
In the category of the best manager, the award was given to Mevludin Ibish, manager of the Macedonian company Dauti Komerc, one of the 10 domestic companies that submitted applications in several categories at this year's world business event.
Director Dejan Pavleski was one of 15 judges who last month selected applications from 780 of the 4,372 registered companies from 176 countries at the Go Global Awards 2021.
After previously participating in the international conference The Think Global Conference in April this year, where the Director Pavleski presented on the country's investment and export potential, Invest North Macedonia was a part of the awarding of prestigious awards to companies at the international level for the first time.