The Director of the Agency, Bekim Emini, attended the press conference of the Deputy Prime Minister of the Government of the Republic of North Macedonia in charge of economic issues, coordination with the economic departments and investments, Fatmir Bytyqi, about this year's payment of state aid for investments to companies.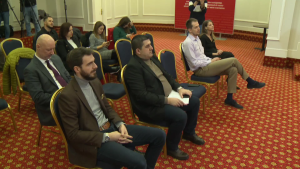 "The establishment of the Economic Growth Plan in 2017 and its realization and success in these 5 years, confirms that this Government knows the right path for economic growth and development of the domestic economy. This year alone, 645 companies have received assistance under the Plan for Economic Growth, which includes the Law on Financial Support of Investments, the Fund for Innovation and Technological Development, and the Law on State Aid Control.
And this year, we will continue to provide strong support to investment companies that improve their competitiveness through new manufacturing processes, the introduction of new technologies, and the creation of higher-paying jobs.
The relationship of support, trust, and partnership grows from year to year, as evidenced by the number of signed contracts with businesses.
We signed 630 contracts between 2017 and 2022, of which 546 are currently active and 84 are completed contracts on various grounds. That is, 69 contracts, or companies, have completed their investment cycles, while 15 have requested amicable termination of the signed contracts.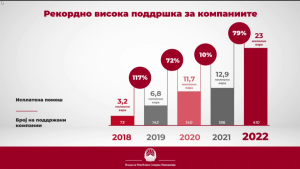 In 2022, 277 new contracts were signed, by far the highest number since the law was passed.
These are just a few facts that confirm the positive growth trend of companies and increasing their competitiveness, but at the same time a key factor, increasing the confidence of the private sector in the partnership relationship with the Government.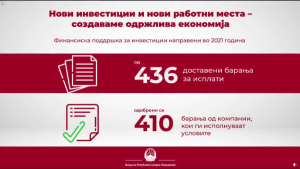 As you can see on the screen behind me, we have a record payment of 23 million euros this year, as well as a record number of companies supported, 410 under the Law on Financial Support of Investments. Since we began this program in 2017, the number of companies as well as the support budget has grown year by year. In comparison to last year, we have a 79% increase in paid financial support this year, from 12.9 million to 23 million euros. The remaining increases are shown in the chart behind me.
This year, 436 requests for payments from businesses have arrived, with 410 of them meeting the conditions and being approved for financial support for investments under the Law on Financial Support for Investments. These companies invested 100 million euros in 2021 and received 23 million euros in state aid.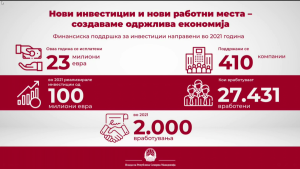 This is how we collaborate with companies to increase their competitiveness through the introduction of new technologies, new manufacturing processes, overall development, and, of course, the creation of new and better-paying jobs. In the previous year 2021, these companies created 2,000 new jobs, and they employ a total of 27,431 people," stated Deputy Prime Minister Fatmir Bytyqi at today's press conference.
More information at the following link: https://vlada.mk/node/31586