The Agency for Foreign Investments and Export Promotion held a working meeting on "Branding of textile companies in the Republic of North Macedonia".
The meetings covered the course of investment activities and plans for growth and development of companies, as well as the promotion of cooperation aimed at connecting existing investors with domestic companies.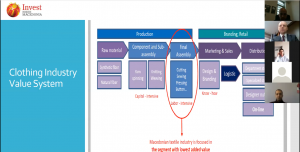 The meeting was attended by textile companies, members of the textile cluster who have already undertaken activities for the development of their brand who gave their proposals and challenges to the sector, as well as how the Agency could be involved in achieving such goals., with the common goal of increasing exports.
The purpose of the meeting was to exchange views on how to add new value to the textile industry and how to conquer new markets.
One of the main conclusions of the working meeting was that the increase of value can be done only by establishing our own brands, overcoming logistical challenges, procurement of modern equipment and organized appearance on foreign markets.