The Delegation of the German Economy in North Macedonia (AHK Nordmazedonien) organize Suppliers Balkan Expo 2022-SUBEX, which will be held on November 15th and 16th with an exhibition section, panel discussions and B2B meetings at the Hilton Hotel in Skopje.
Within the framework of the two-day event, Invest North Macedonia will take part with its own stand – an exhibition space where several companies from the country will be presented.
The director of the Agency, Bekim Emini, will give an introductory speech on the first day of the opening of the SUBEX_Supplier Balkan Expo.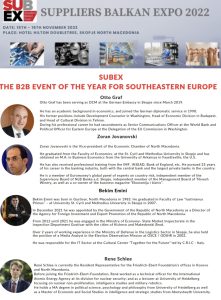 This two-day event is intended for companies from the metal, electrical, IT, textile, wood and food industries.
The purpose of the event is to matchmaking German manufacturing companies with supplier companies from the region, as well as to present the potential of companies from North Macedonia as a supplier market with huge potential.
For more detailed information https://subex-b2b.com/