Within the framework of the World Investment Forum, the Director Gazmend Abdija, along with the economic counsellor Bekri Ajdini, conducted a productive working meeting with the Abu Dhabi Department of Economic Development and ADQ.
The Abu Dhabi Department of Economic Development (ADDED) is an organization dedicated to stimulating economic growth by empowering private sector, encouraging innovation and strengthening competitiveness in Abu Dhabi. ADQ is an Abu Dhabi-based investment and holding company mandated to accelerated the transformation of the Emirates into a knowledge-based economy.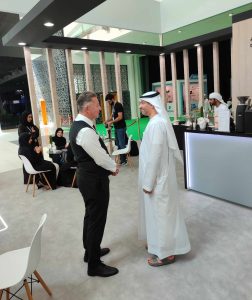 During this meetings, various areas of collaboration between companies from Abu Dhabi and North Macedonia were identified. It was concluded that there is significant potential for enhancing economic cooperation, with a specific focus on agribusiness and food processing, energy sector, and tourism sector. In this context, there was also an emphasis on the need to establish a direct airline route from North Macedonia to Abu Dhabi.