For the first time, Macedonian companies have the opportunity to complete among 176 countries in the world with their business achievements for an award that will provide them with a ticket to direct entry into world business opportunities. The Go Global Awards have been organized by the International Trade Council since 1956.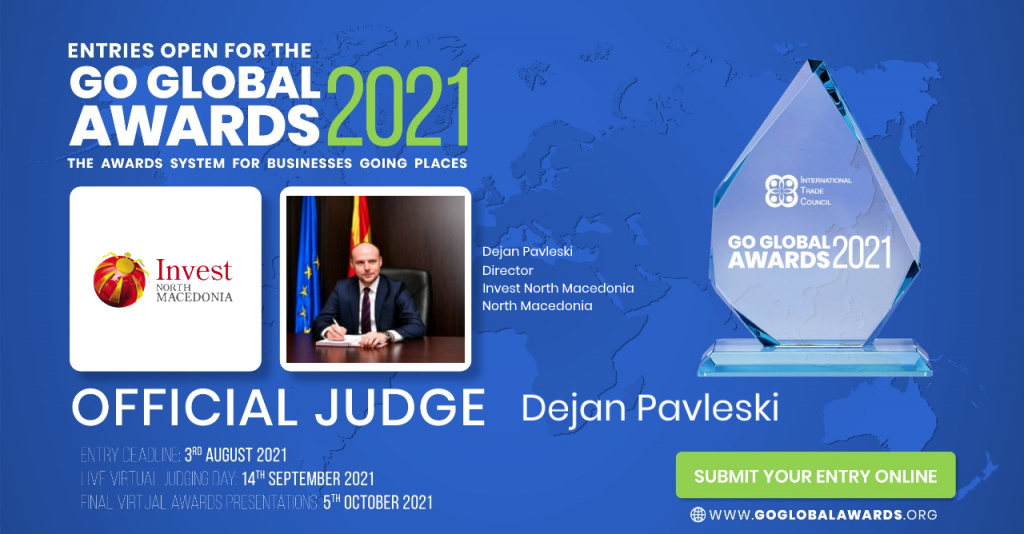 Invest North Macedonia is part of awarding of companies at the international level, and the Director Dejan Pavleski is one of the 14 judges who will select the registered world companies.
Invest North Macedonia invites domestic companies to participate in this prestigious selection of the best businesses in the world. The application is until August 3, 2021, and for all interested the Invest North Macedonia offers advisory support. The selected companies will be announced on September 14, 2021, and the official selection which due to the pandemic will be held virtually is on October 5, 2021, said the Director Dejan Pavleski.
The Go Global Awards provide global recognition for the success of companies. The program aims to build a community of senior executives from around the world to support each other, share ideas, build partnerships and complement their existing knowledge and connections. The winners gain access to unique international platforms through an extensive network of International Trade Council members in 176 countries.
Applying for the Go Global Awards is free and provide the opportunity for Macedonian companies to expand their resource network, learn more about innovations and market opportunities, and personally compare themselves to their competitors.
Applications will be reviewed by 14 judges who will award 8 categories of Leadership Awards.
"2020 was a year like no other, yet businesses of all sizes, from all industries, defined the limitations of our new world and kept on. These organizations have displayed their resilience, innovated, embraced rapid technological changes, and supported their employees and communities in a way never seen before.Enterpreneurship cannot be stopped. Collaboration will always prevail. New opportunities can sometimes be found in the darknest of places,"said the International Trade Council Chairperson for South East Asia, Ranjani Rangan.
The Awards bring together hundreds of senior executives from some of the world's most innovative manufacturers, exporters, technology firms, international service providers, venture capital firms and financial institutions.This year's awards categories include: Accounting Services, Advanced Manufacturing, Artificial Intelligence, BioTech, Business Process Outsourcing , CleanTech, Construction,eCommerce, edTech, Electronics, Energy, Export Promotion, Fashion, Finance,Information Technology, HealthTech, Hospitality, Legal Services, Logistics,Manufacturing, Marketing, Market Research, MedTech, Mining, Packaging, Pharma, Professional Services, PropertyTech, Retail, Robotics,Shipping, Supply Chain Management, Tourism, Trade Finance, Mining & Wholesale.
In 2019, 3952 companies from 161 countries applied for the Go Global Awards, 91 companies from 18 countries received awards.
Find out more about the awards www.goglobalawards.org