Ten Macedonian companies, co-exhibitors of the national stand "Invest North Macedonia" are presented at this year's digital edition of Hannover Messe. Under the motto "The whole tech world is coming to Hannover", the world's leading technology fair, due to the situation caused by the coronavirus, is being held in digital form from April 12th to April 16th.
At the fair, companies have the opportunity to schedule meetings online, participate in B2B meetings, connect with contacts, share digital presentations, live stream and participate in forums on various topics in the field of technology.
The digital edition of the fair is organized in such a way that each company – exhibitor has its own profile where they will share information about the company, photos of products and services they offer and video presentations.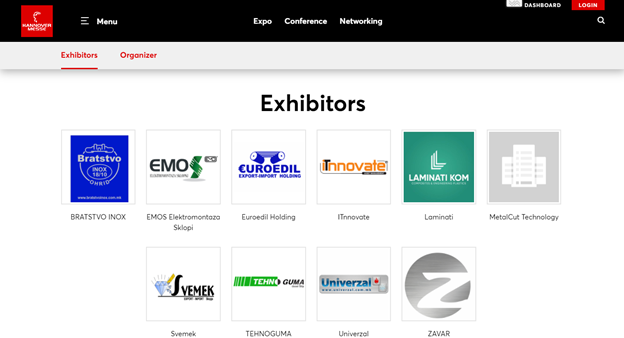 Invest North Macedonia through the Export support program, supports companies in their activities to increase exports and conquer new markets, and Hannover Messe is one of the fairs where Invest North Macedonia is present. This year, the following Macedonian companies are within the national stand of exhibitors:
1. Laminati, https://laminati.com.mk/
2. Euroedil, https://en.euroedilholding.com/
3. IT Innovate, https://innovation.mk/
4. EMOS, https://emos.mk/
5. Bratstvo, http://www.bratstvoinox.com.mk/
6. Svemek https://www.svemek.mk
7. Metalkat, http://www.metalkat.mk/
8. Tehno Guma, www.tehnoguma.com.mk
9. Zavar, https://www.zavar.com.mk/
10. Universal, http://univerzal.com.mk/mk/